Bible readings & reflections
Weekly Bible Readings and Reflections for the First Sunday in Lent 21st February 2021
Lent - Fast - Prayer - Give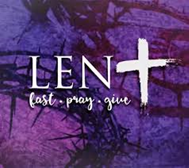 THOUGHTS FOR THIS WEEK – The First Sunday of Lent – 21st February 2021
Readings
Genesis 9:8-17: God promises Noah that God will never again destroy all life through a flood, and God gives the rainbow as a sign of this promise.
Psalm 25:1-10: A plea for God to be merciful and to not remember the sinfulness of the psalmist's youth, but to teach the psalmist God's ways and deliver him from his enemies.
1 Peter 3:18-22: Jesus died for us and was raised to life, having preached to the "spirits in prison" who disobeyed in Noah's time. And now we are given the sign of baptism to show that we are saved & cleansed within by Christ, who now rules with God in heaven.
Mark 1:9-15: Jesus is baptised by John, affirmed by God and sent into the wilderness to be tempted. Then after John is arrested he begins his ministry calling people to repent and believe in his Good News message.
Rev Tania writes:
This first Sunday in Lent, though, at the start of our penitent journey of preparation for Holy Week and Easter, we are invited to expand our vision of God's Reign and recognise that it embraces all of creation, and that it whispers of a connectedness between all things that, once we embrace it, is truly world-changing.
Water – in the flood and in the baptism of Jesus and of Christ's followers – is the striking image at the heart of this first week in Lent. But, along with it comes God's promise of restoration, of grace and of the united creation toward which God is working. In the Noah story, the promise that God will not again destroy the earth with a flood is freely given, not just to Noah and the human beings, but to the whole of creation.
In Peter's letter, Christ's work in saving both the living and the "spirits in prison" from Noah's time, is explained, with baptism as the sign of our salvation. Importantly, though, Christ's place as ruler of all "angels, authorities and powers" is also proclaimed here – indicating again, the unity that comes through God's grace.
In the Psalm the writer expresses trust in the God who restores and protects and who leads the psalmist in God's ways of life.
Finally, in the Gospel, we return to the account of Christ's baptism (which we last encountered in the first week of Epiphany on Baptism of Christ Sunday), but now, the temptation narrative is included, along with the start of Jesus' ministry.
Here again, God's affirmation of Jesus, along with the baptism experience, is a highlight, leading on to God's sustaining of Christ in the wilderness.
This week we find a transforming message coming through. The act of baptism, which is a sign of our welcome into God's community of grace and salvation, embraces and includes all of creation. And, as all of creation is brought together, so we are all called to be agents of God's grace and sustenance and life to one another.
The mission of Christ, of which his baptism was the start, proclaims the Reign of God in which all creation, not just human beings, are included and restored.
As we embrace the Lenten fast and the journey of repentance, it is important that the scope of God's saving work be remembered, for ultimately our spiritual work must lead us to be better participants in this work.
May we be renewed this Lent.
In prayer, Rev Tania.